Tonfa
​
Custom Tonfa are crafted in
Domestic or Exotic Hardwoods
and are available in six sizes for the grip and seven sizes for the body. We complete the Tonfa to your order.
See the size chart below for grip and body dimensions.
We often have Tonfa sets available that are already assembled. See our Store for
Featured (Ready to Ship) Tonfa
. The size and wood species are indicated.
Exotic Hardwood Tonfa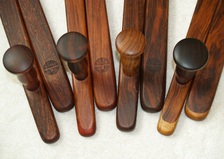 ---
Domestic Hardwood Tonfa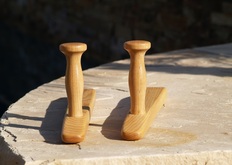 ---
Customizing
Choose a grip size and the wood species, choose a body size and the wood species. We can provide almost any hardwood species or combination for your pair. Some successful grip species are; Goncalo Alves, Bubinga, Jatoba, Mesquite, Hickory, Maple, Acacia, and others.
Laser etching is available on the body of the Tonfa. Please contact us via email with your details. We will coordinate any necessary adjustments to your graphics, and submit to you for your approval.
Further customizing is possible for anything about your tonfa, just call or email to discuss.
To Order
Click the "Store" tab or visit our store on Facebook @
http://apps.facebook.com/ecwid-shop/store/105274642871090
Unsure about the choices and sizes? We will be happy to discuss the options, help with sizing, and assist you in any way we can. Email your questions to
brian@toriiusa.com
Or call Brian at 602.768.2985
---
Measure the hand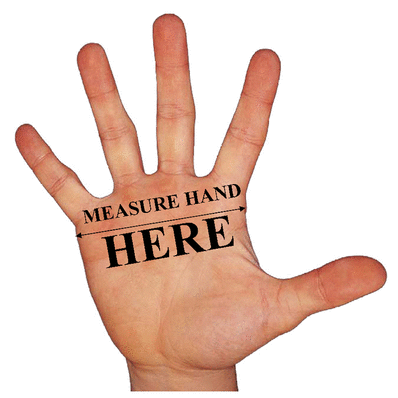 Measure your hand as shown to find Grip size
---
---
Size Chart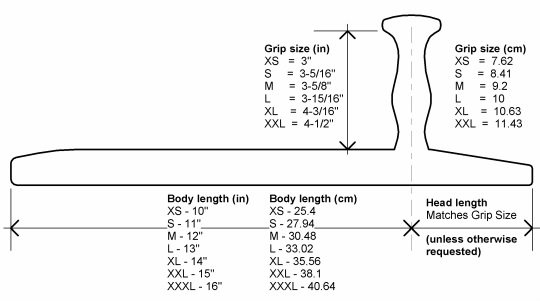 This chart gives the dimensions of the various sizes. Choose your size by measuring your hand at the knuckles. If this dimension is "tight" or more than that given for the grip size go to the next larger size - the contour of the grip provides a good fit even if slightly larger than the hand. Then measure your arm length from the center of the grip to the elbow. Another method is to compare the measurements of a tonfa you have handled. The length of the body should be to the end of your elbow or beyond perhaps one inch. We recommend consulting your sensei to confirm body length recommendation. One organisation we have supplied recommends 2 inches past the elbow. This extra length provides more inertia for the tonfa body, and it is useful in tuite applications.
---